Attractions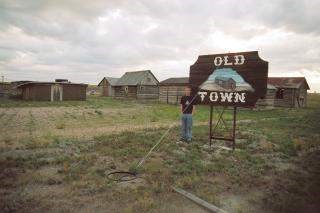 The original IronTown was built in the late 1880's on this site. With the promise of the iron horse (railroad) which would carry coal, sheep and cattle to market, early settlers drove their livestock here from as far away as Montana to get them shipped to the east. The railroad was built a mile east of Iron Town, so the village quickly folded and Merino, later became Upton over night.
The people of Upton have been rebuilding the town of Iron Town. You can see the work in progress at "Old Town". Enjoy a tour of this interactive museum built of historic cabins and buildings of the area depicting the local and state historic heritage. The sod house was constructed in 1997. The crew of Upton High School students supervised by Mike Wood, attempted to build in 1995 and 1996, but two old-timers said that the sod house couldn't be built until 1997 because of the moisture level. An original sod cutter used by Orville Whitney during the depression era was used to cut the sod. The sod was taken from Bill Barton's ranch twelve miles west of Upton. Blocks were plowed, cut and trailered onto the location. The sod was 20 inches wide, 2.5 feet long, and 4 to 5 inches thick. The construction took three weeks and would have been larger had there been more sod.
Other buildings relocated to Old Town include the Clingan cabin, Hawkins cabin, Rankin log house, Hawkins blacksmith shop, Upton's old fire hall, the Plachy ice house, Osage's "House of Ill-Repute, and Watt's water tank, barn, corral and blacksmith shop. Several wagons have also been restored and displayed on site.